12 Aug 2007, ST
By Thng Lay Teen
IF YOU like the taste of egg tarts but are looking for a healthier alternative, Le Cafe Confectionery & Pastry's beancurd tarts may just be it.
It is easy to see why the tart ($5.50 for six pieces) is one of the bestsellers in this family-run confectionery in Middle Road.
Soya beans and almonds are first ground up and then cooked with water, sugar and pandan leaves for fragrance. The result is a silky-smooth filling.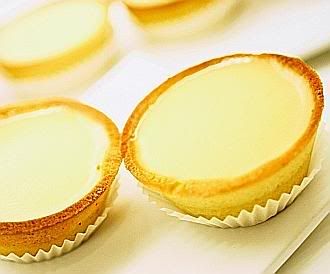 LOCAL FLAVOUR: Le Cafe's beancurd (above) and pineapple tarts and moonpie hit the spot. -- ST PHOTOS: DESMOND LIM
Like all the other pastries at the shop, the filling has just the right constituency. You'd almost think you were eating an egg custard if not for the familiar taste of tau huay (soya beancurd).
Some might find the tart shell a bit too sweet, though.
There is also a variation of the beancurd tart - beancurd and grass jelly tart (also $5.50 for six pieces).
Chunks of grass jelly (chin chow) are added to the soya bean filling, giving it a black and white appearance and adding some bite to the otherwise smooth texture.
Le Cafe was started in 1949 by the father of owner Wee Yoke Cheng, 59. The younger Mr Wee now runs it with his wife Betty, 58; daughter Mei Ling, 32; and son Tee Jin, 31.
The shop is famous for its moonpies and pineapple tarts.
If you like mooncakes that are small and different, the moonpies ($9.80 for eight pieces) here are seriously good. The fragrant, flaky pastry, which is generously sprinkled with toasted sesame seeds, melts in the mouth.
The moonpies are so popular that orders for the Mid-Autumn Festival have to be placed one month ahead although they are also available all year round.
One mix-and-match box has eight pieces with different fillings: two lotus seed paste ones, and one each of salted tau sah, pandan, green tea, coffee, yam and black and white sesame seeds. All the fillings, which are not too sweet, are made in-house.
The pandan, coffee, refreshing green tea and yam versions really stand out.
The pandan moonpie is naturally fragrant as the paste is made with the juice from fresh pandan leaves. The coffee powder used in the coffee version is very aromatic.
And if you like your pineapple tarts big, fat and round, try the golfball-sized ones here. These have proven a hit with tourists from places like Hong Kong, Taiwan, Japan and the United States.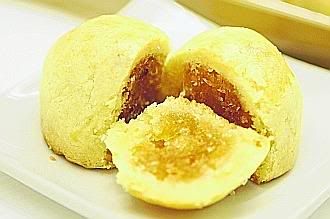 LOCAL FLAVOUR: Le Cafe's beancurd and pineapple tarts (above) and moonpie hit the spot. -- ST PHOTOS: DESMOND LIM
The tarts cost $7.20 (10 pieces in a bottle), ($6.80 for 10 in a box) and $13.50 (20 in a bottle).
They are so popular that one day, a couple from Hong Kong walked into the shop holding a crumpled sticker, asking if they were in the right place. They had come straight from Changi Airport and had a taxi waiting outside.
They had tasted the pineapple tarts which some friends had brought from Singapore, and liked them so much that they made Le Cafe their first stop when they landed here.
They are not the only fans. In fact, regulars have already placed orders for the tarts for Chinese New Year in 2009.
The family is also expanding its business. It is opening a new outlet at Block 42, Cambridge Road, in two months' time.
Le Cafe Confectionery & Pastry
264 Middle Road
Tel: 6337-2417
Open: 10.30am to 7.30pm from Mondays to Saturdays, 10.30am to 3pm on Sundays and public holidays
Rating: *** 1/2