15 Aug 2007, ST, Life
WHILE the most recent gossip links Chin Han to veteran actress Nancy Sit, the media has frequently probed his relationship with actress Lin Ching-hsia.
Back in the 1970s, he was the leading man of many tearjerking TV dramas and films.
Together with lady charmer Charlie Chin Hsiang-lin, and actresses Lin Feng-chiao and Lin Ching-hsia, they were known as 'Double Chins, Double Lins', who dominated the romantic drama genre.
Whereas Lin Feng-chiao, now 54, quietly disappeared from the scene to marry action star Jackie Chan in 1983, the other three formed a high-profile love triangle that rivalled the plots of Taiwanese novelist Chiung Yao's dramas.
Lin Ching-hsia, now 52, and Chin Han, now 61, first met during the latter's second film, Outside The Window, in 1973. Although he was married then to former actress Shao Chiao-yin, daughter of a Taiwanese cosmetics mogul, the rumour mill churned tales of a love affair.
Later, during the production of Cloud Of Romance (1976), co-star Charlie Chin got entangled in the already complicated relationship.
In 1979, in a bid to escape from the media frenzy, Lin Ching-hsia left for the United States. Charlie Chin was hot on her heels. Not long later, news of their engagement broke.
Then in 1982, Chin Han announced his divorce with Shao. A year later, Lin also broke up with Charlie Chin, who is now 57, remarried and living in California with his family.
The actress revealed in a 2005 interview with the Japanese media: 'Charlie is a caring and good man. I really liked him a lot, but I didn't treat him as a lover.'
Lin Ching-hsia and Chin Han finally made public their relationship in 1985.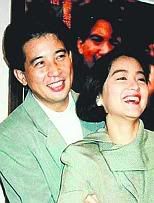 ALL IN THE PAST: Chin Han and old flame Lin Ching-hsia.

They were an item for 10 years, but in 1994, she married businessman Michael Ying.

She explained later: 'Chin Han never gave me a sense of security.'

However, till today, although she is a mother of two daughters, tabloids continue to link them together.

When her father died two years ago, journalists asked her if Chin Han would attend the funeral, and got an angry retort: 'Do you think this is an appropriate time to ask such questions?'

Similarly, when Taiwanese reporters, after realising that recent rumours of him and Sit were made up, quizzed him about Lin Ching-hsia, he said fiercely: 'Stop talking about untrue things.'

Perhaps to the paparazzi, the fact that Chin Han never remarried is testament that he never got over Lin Ching-hsia.

But as he once said: 'Fate is something that can't be forced.'