23 Sep 2007, ST
Making cookies this weekend? Here are some creative shapes for your sweet bites
By Brenda Goh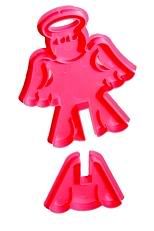 These cutters make 3D cookies by cutting out shapes which you can fit together after baking.
$59.85 from Chong Trading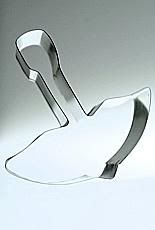 Chase rainy days away by baking umbrella-shaped cookies.
$3.50 from The Bake It Yourself Store, 182 Bukit Timah Road, Tel: 6100-2253
Let Junior have some fun by getting him to help you make train-shaped cookies.
$2.25 from Chong Trading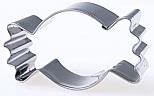 Give in to your sweet tooth: Bake cookies shaped like candy.
$1.80 from Ghim Hin Lee, Block 10 Haig Road 01-363/365, Tel: 6742-8388
Whip up a batch of apple-shaped cookies with this cutter. But eating one too many may not keep the doctor away.
$18.50 from Pantry Magic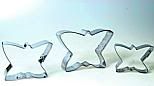 Make a batch of pretty butterfly-shaped cookies in different sizes.
$18.50 from Pantry Magic, 43 Jalan Merah Saga 01-80 Chip Bee Gardens, Tel: 6471-0566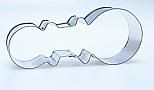 Celebrating your baby's birthday? Treat your guests to rattle-shaped cookies.
$3.50 from Chong Trading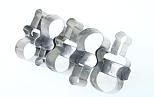 Personalise your cookies with this unusual cutter which allows you to cut out four guitar- shapes at one go.
$3 from Ghim Hin Lee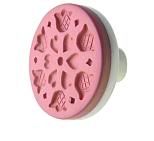 Stamp a design on your cookie with this ceramic cookie stamp.
Cookie stamp, $19.80 from The Bake It Yourself Store